Baseball Installations
Our baseball netting projects are known for their innovation and quality
Whether we're designing and installing baseball batting cages, indoor training facilities, or backstop and outfield barrier netting, Netex works to supply the best spectator experience available, the safest and most flexible player training facilities, and durable, well-designed equipment.
Our approach has given us a reputation as experts and innovators who insist on quality at every stage of a project. From concept to completion, Netex ensures that your installation is properly designed for the requirements of your site, and that it will last and look good, season after season.
"I can comfortably say that my cages are the best within our city, and could not have been possible without the quality and work from Netex. I have recommended Netex to multiple groups who have asked about netting and batting cages over the years, and will continue to do so."
Mike Johnson, Owner and Former MLB Pitcher
5 Tool Fieldhouse, Indoor Baseball Facility
"When it comes to longevity, durability, sustainability and ease of use, Netex L-Screens are far superior to any other product I have used. The Philadelphia Phillies trust Netex L-Screens and I would recommend them to anyone who wants the best quality out there."
Tommy Tamaska, Former Head Groundskeeper
Philadelphia Phillies Spring Training Facility
Gordie Howe Indoor Training Facility (April 2019)

Netex completed the design, fabrication and installation of the entire indoor sport netting systems for the new Gordie Howe Indoor Sports Complex located in Saskatoon, Canada. The completed indoor facility is valued at approximately 15 million dollars. The netting systems included nine baseball batting cages and the wall netting for the entire open field area, spanning approximately 140 by 200 ft. The batting cages and wall netting were designed and custom-fit by Netex to incorporate the intricate venting, lighting and radiant heating systems in the structure's ceiling. In addition, the spectator mezzanine was outfitted with a custom-made Dyneema® net for maximum protection and optimal viewing experience. The Gordie Howe project was one of the largest indoor training facilities Netex has worked on to date.
Newman Outdoor Field (May 2017)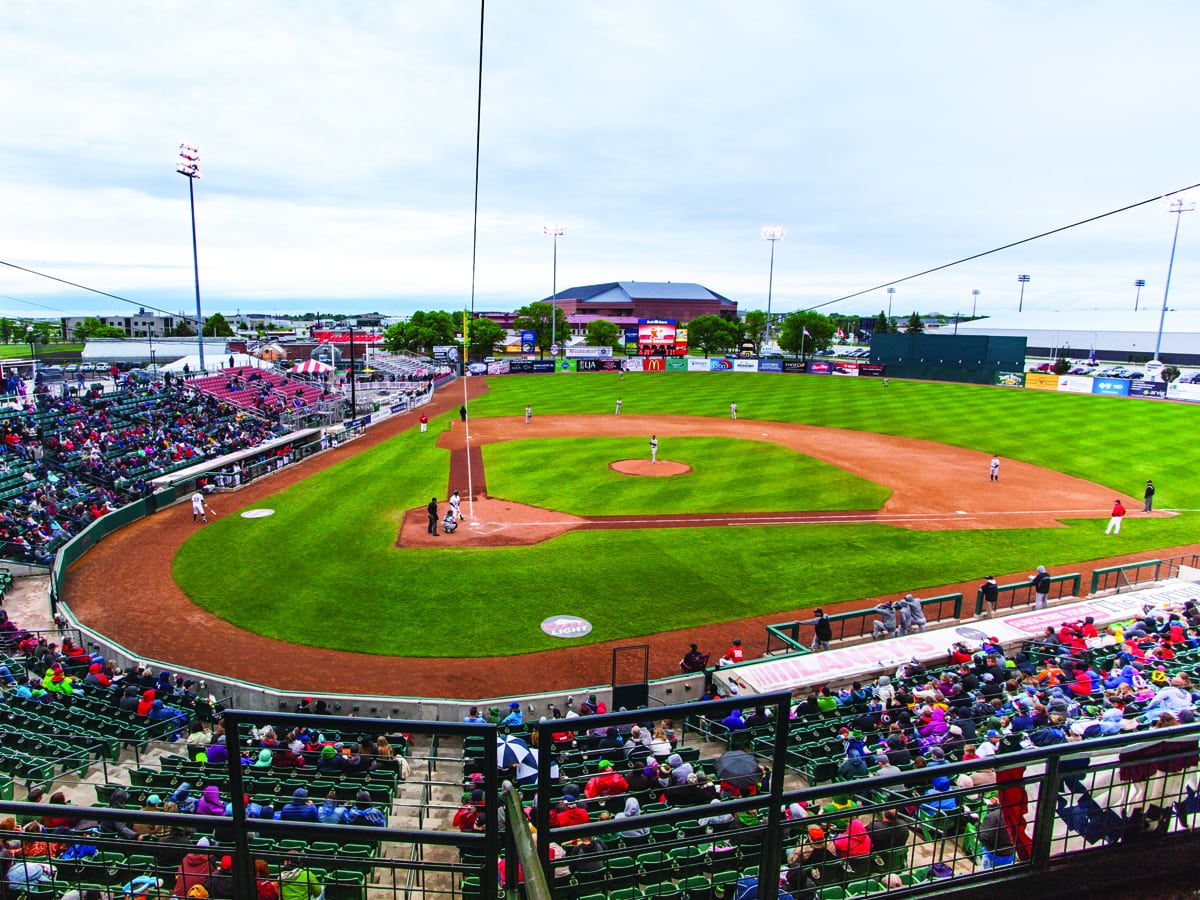 Newman Outdoor Field is in Fargo, North Dakota on the campus of North Dakota State University. The baseball stadium is home to the Fargo-Moorhead RedHawks and the North Dakota State Bison baseball teams.
Netex set out to create the best spectator experience available for this project with a nearly invisible curved netting system behind home plate. Dyneema® baseball netting was installed with a curved, clear-view system that required no rigidized attachment points along the top of the system, thereby keeping the view border free and crystal clear. We engineered for eight tie-back points, using the new Netex non-stretch stadium rope to create that beautiful curve appeal. Non-stretch rope means no yearly re-tensioning is required to keep the netting taut – resulting in less maintenance.
A total of two, Netex precambered, engineered poles were used: one was placed at the end of each dugout to anchor and support the netting system – our superior pole system was needed for the high-tension rigging and tie-backs. To match the top-of-the-line spectator barrier netting, Netex also provided full backstop padding with team logos, dugout nets, pitching screens, and an indoor batting cage.
UBC Baseball – Indoor Training Centre (September 2015)
Netex worked under a very specific and limited time schedule to complete the University of BC Baseball Program's four-million-dollar indoor training facility. Our customer chose a Netex custom-designed, fully automated, multiple-divider system for maximum use of their space. With many years of netting and construction experience, Mark at Netex was able to create a complex netting system that would operate seamlessly to deliver a complete baseball training session.
With our automated system, the coaches are able to change swiftly to and from multiple different netting layouts. When all three dividers are down, the team is able to practice with four, fully functioning batting tunnels. When all automated dividers are up, the coaches are no longer limited to batting practice, they have the ability to conduct full fielding drills, long toss, and more. The centre divider was created not only to separate the practice space into two, but to also serve as a coaching platform where the coaches could observe and teach within close proximity without the risk of being hit by a stray ball.
Like many construction projects, the facility building went through plan and design changes that required Netex to adapt and be flexible. In particular, we were able to reconfigure our automated pulley and netting systems around changes to the ceiling plans and design. Netex also supplied the facility with pitching lane custom-logo wall padding, pitching screens, pitching mounds, Sports Attack pitching machines, ball hoppers, and batting tees.
Energy Capital Sports Complex (May 2014)

Upon completion, the Energy Capital Sports Complex in Gillette, Wyoming, will be a 100-million-dollar sports park that will include state-of-the art baseball and softball facilities. While the centre itself is still in development, Netex has designed and installed an overhead Dyneema® netting system to protect the spectator area of one of the park's fourplex softball facilities. The structure had to be functional, durable, and easy to disassemble and reassemble after Gillette's severe winters. It also had to be architecturally appropriate, as the net structure would be a dominant feature on the landscape, visible from two nearby highways.
The end result was a netting system suspended over the plazas that resembles a three-dimensional star with four branches. It is 40 ft high in the center, decreasing to 14 ft at the end of each branch to allow foul balls to be directed to the edges, rather than getting caught in, and weighing down, the middle of a netting panel.
Another challenging aspect of this project was the creation of a 100-ft-wide span of overhead netting for an unusually large area between softball diamonds. Angled steel poles were used to anchor each of the branches to relieve the stress of the large-scale overhead netting system. To date, this is one of the most complex netting systems hand-fabricated by Netex.
"… the fully covered spectator area allows people of all ages to feel comfortable and safe from foul balls while enjoying 'America's Pastime'.
Mark Wilson of Netex not only provided the attention to detail critical to success, he provided onsite training and instruction regarding disassembly and reassembly to assure proper function and longevity of the structure. We specify Netex on all of our athletic complex designs with unique design challenges, with full confidence that the project will be successful."
Bruce Dees, FASLA
Landscape Architect, Bruce Dees & Associates